[blows a kiss at the moon] For Chị Hằng ❤️
Happy Mid-Autumn Festival to everyone who's celebrating! I hope you all are having a great (and safe) time with your loved ones and eating a lot of mooncakes! 🥮
Anyway! We have a wrap-up to do!
If you traveled back to 2018 and told past-me that I would fall in love with historical romance and read (almost) nothing but historical romance for two months, I would probably think you were telling a very unfunny joke. Ngọc, willingly pick up a book with half-naked models on the cover, much less enjoy it?
Fast forward to October 2020, when I admit that I read (almost) nothing but historical romance for two months and enjoyed it very much.
Well. I have nothing to say in my defense. I'm a clown. We been known.
August and September also marked the first time in ages I was interested enough in any TV series to actually watch them. I started two, in fact. I haven't completed either, but I've already pirated them—listen, streaming is expensive, and Netflix doesn't need to make more money—so I will finish them sometime soon.
Alright, let's get into the details, shall we?
(P.S. This is such a long post like what the hell 😭 The formatting is kinda scuffed too, and I've already spent a day working on it. [sighs] My sister told me I should just start a draft for my wrap-up at the beginning of the month and add more books as I finish them and… That's a good idea? Because doing what I do every month is hell.)
🪴 new rating system 🪴
Before we start, I want to mention that I'm moving slightly away from the star-rating system, into a, um, letter-grade one? The reason for this is that the star-rating system isn't subjective enough. There are books that, objectively, I know they deserve 4 stars, but I personally don't enjoy them all that much. Do I knock down half a star or do I keep it? Star-rating is such a pain.
I got the inspiration for the new system from TierMaker. What this means is: instead of assigning a rating for a book—and hurting my brain over the subtle difference between 3 and 3.5—I just put them into a tier that feels right to me. I still give star-ratings on Goodreads and in my reviews (because habits die hard) but from now on, I'm not going to use them in my wrap-ups anymore.
I seriously considered just going for god-tier, great-tier, good-tier, and so on, but then I realized I have to rate bad books sometimes and shit-tier and crap-tier are just… too polarizing for my taste. So I use letters instead! Here's a quick guide to how it works.
Tier S / A / B: positive tiers. I enjoy reading the book and like it. Definitely would recommend!
Tier C: neutral tier. I don't hate it, but I don't love it either. Probably won't even remember about it to even recommend.
Tier D / F: negative tiers. I don't like it. Would not recommend.
This makes more sense in my head.
🪴 what i read 🪴
📚 18 reads: 10 novels, 4 novellas, 2 short stories, 1 graphic novel, 1 non-fiction
---
☕ I was looking for something gay and fun and sexy to read, then I realized I'd had The Soldier's Scoundrel on my Kobo for months. This was how I started my unplanned historical romance readathon, lmao. This series is my first from Cat Sebastian, and I'm not quite sure how to feel about her writing. I like it, but sometimes the story moves too fast when it should take time, then fizzles out when it should pick up speed. It's not that big of a problem, though, and her characters are fantastic. Also, The Ruin of a Rake is so good 😭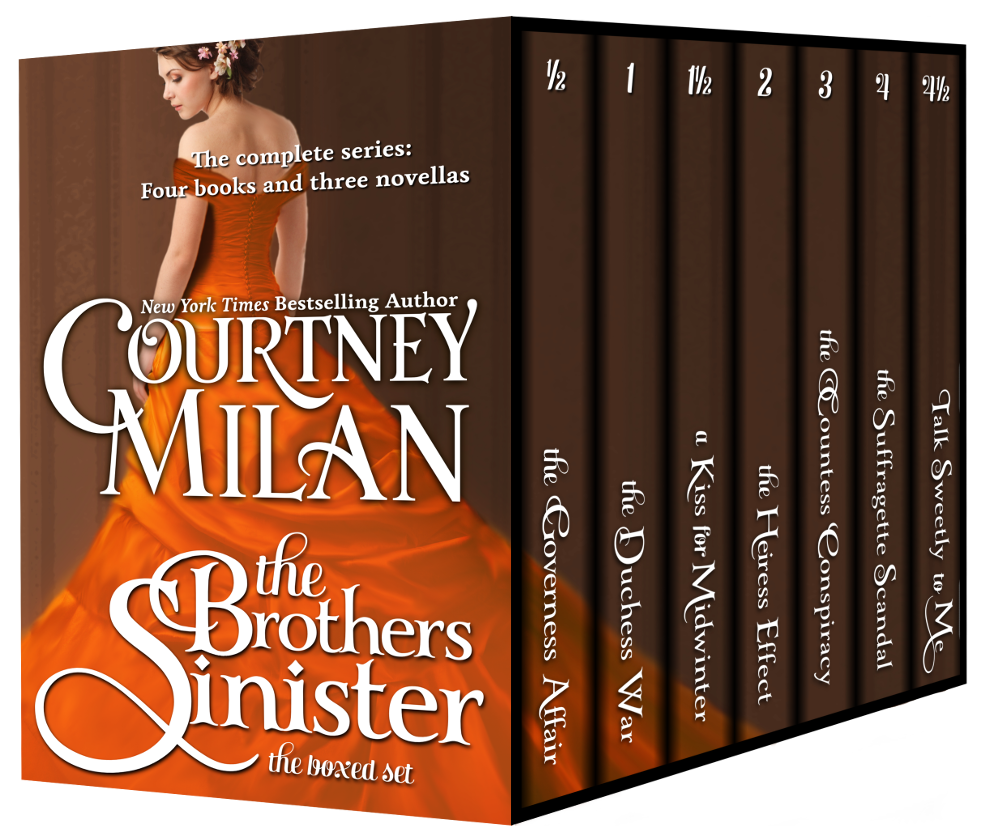 ☕ I bought The Brothers Sinister: The Complete Boxed Set on Kindle when it was on sale last year and promptly forgot about it lmao. I'd heard about this series way before I joined booktwt, and I didn't even read back then. The hype for this series is real, and for good reasons. It's, like, super good?? I still have the last two books to read, but I expect I will love them anyway. Courtney Milan is pretty much my favorite romance author now.
☕ You can read my full review here!
☕ This book feels like a really good fanfic I hold dear and come back to whenever I feel down, which it kind of is. I really don't feel guilty for loving this book too much but also, do people really want to hear me gush about it for the umpteenth time? Probably not. You can still check out my full review here, though.
☕ I wish Goslee released more books because I really like how she writes teenagers exploring their sexuality and being a mess. She's able to strike a balance between delightfully ridiculous and strangely authentic and I can't get enough of it.
☕ Listening to the audiobook was a good decision because I think I wouldn't enjoy the book as much if I actually read it. I feel like the ending left me somewhat unsatisfied, but you definitely should check it out if you want a quick read about adult friendship between brown (and queer) women and how the music industry fucking sucks!
☕ I'm not eloquent enough, but fortunately Goodreads are full of people smarter than me and Theresa explained precisely what I didn't like about this manifesto:

"I agree with all of their points but my criticism is that it reads like a manifesto for the already converted. They assume that readers will understand complex political theory with little explanations or illustrations. I understand that a manifesto is not a textbook, but if its purpose is to influence people who do not already agree with them, they needed to make their points more accessible to the reader."

There's no way this manifesto is able to convince its supposed target audience—white, liberal, pro-capitalist feminists—to become anti-capitalist and anti-imperialist. But if you're already familiar with the idea and want something short, this is a decent read.
☕ Welp. This was a difficult read. I think this was the first time I read anything by a lesbian author living in East/Southeast Asia? It hit way too close to home.
☕ A short story that left me wanting more, more of these characters, more of the world they live in, more of whatever magic Kai Ashante Wilson has weaved into the passages. The story is super short so I won't say much more, but the main character is mlm and the story is set in a world where everyone is casually queer and marriages have to consist of three people or not at all. You can read Super Bass for yourself here!
Dagon by H.P. Lovecraft ⇢ ???, probably a B
☕ Too short for me to form any concrete opinions, but I do like it. I still have reservations about Lovecraft—I mean, he was a giant bigot—but he's dead and his works are in the public domain and Cthulhu mythos seem cool and I don't want to miss out on the fun, so here I am.
---
Slightly unrelated, but—
My friend hated this cover lmao.
🪴 what i listened 🪴
---
highlights
🎶 SuperGood by DUCKWRTH (August 21, 2020) ⇢ I'm obsessed with this album. This is the most versatile and vibrant R&B/funk record I've come across in a while. Favorite tracks: Quick (feat. KIAN) and Super Bounce (feat. EARTHGANG).
🎶 All My Heroes Are Cornballs by JPEGMAFIA (September 13, 2019) ⇢ Recently got really into Peggy's music and I think this is his best work so far. Experimental and glitchy and distorted, with clever and cutting lyrics about politics and identity. Favorite tracks: Jesus Forgive Me, I Am a Thot, Grimy Waifu and Free The Frail (feat. Helena Deland).
🎶 Nectar by Joji (September 25, 2020) ⇢ I didn't expect to like this album as much as I do. I'm not a huge fan of the direction many Asian R&B artists are taking: ballad and minimalist 808s R&B tracks that showcase none of their personality or talent. However, this style fits Joji and his melancholic vocal perfectly. It does help that he experiments with more than one sound on the album and the overall production is actually interesting. Favorite tracks: Tick Tock, High Hopes (feat. Omar Apollo), Run and Reanimator (feat. Yves Tumor).
🎶 Last Year Was Weird, Vol.2 by Tkay Maidza (August 7, 2020) ⇢ Tkay is literally one of the most versatile artists, it should be criminal how underrated she is. This is an EP consisting of 8 tracks, and there are no two tracks with the same sound. Favorite tracks: Awake (feat. JPEGMAFIA), Grasshopper and Don't Call Again (feat. Kari Faux).
🎶 似近似远 by 旅行团 / The Life Journey (September 15, 2020) ⇢ My favorite Chinese indie band is back with a new album! I've loved all of the pre-released singles, and I like the direction they take with this album. I still need to give this album more listens, though. Favorite tracks: 你没有名字 / No Name and 红色的河(旅行团 & 吳青峰) / The Red River, Duet with Wu Qingfeng
🪴 what i watched 🪴
🎬 Black Sails (Season 1 – Season 3) ⇢ I haven't finished season 3 because… I'm not ready….. But I definitely will soon. I never expected to love this series so much? My mutuals speak very highly of this series, and I know it has gay pirates, but I didn't expect?? Whatever this is???? You have to see the notes I've taken while watching it, they're—I'm—a mess.
---
🎬 Succession (Season 1) ⇢ I decided to start this show because it won big at this year's Emmys and I was curious. This show is… a lot lmao. I can't even binge-watch it because IT'S TOO MUCH. The Roy family is so dysfunctional and self-destructive it's almost painful. Almost. Seeing rich people stabbing each other's back is fun!
---
🎬 Tenet dir. Christopher Nolan ⇢ I watched it twice and still couldn't really wrap my head around what happened. I love being confused, though. Also, Robert Pattinson.
🎬 Moonlight dir. Barry Jenkins ⇢ Annual Moonlight Rewatch! Have I told y'all how much I love the restaurant scene where Chiron goes to meet Kevin for the first time in a decade and they watch each other longingly and talk without saying what they really wants to say to the other? Yeah……….
🪴 more media i enjoyed 🪴
☕ How were your August and September? What was your favorite read? Are you celebrating Mid-Autumn Festival? How excited are you for October? Tell me all about it!
FIND ME ON GOODREADS / INSTAGRAM / TWITTER / MORE